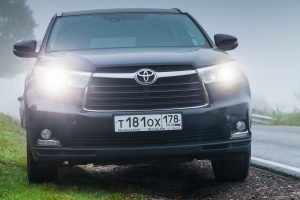 Many drivers don't have the patience or the desire to own and drive the same car for a decade. According to SubPrime, only about 12% of drivers do it. Some cars can't last that long. Others don't meet the driver's needs for the entire decade. However, some seem to just work for long periods of time, no matter what the driver's lifestyle is like. In the list of the top-ten vehicles most often owned for a decade by the same owner, six are made by Toyota and nine are SUVs or minivans. The ranking looks like this:
Toyota Highlander Hybrid
Toyota Prius
Toyota Highlander
Toyota Sienna
Honda Pilot
Honda CR-V
Toyota Rav4
Subaru Forester
Lexus RX (hybrid)
Honda Odyssey
Do you find this surprising? We don't. These are great cars. They're reliable and they are functional for most drivers. Importantly, most are great family cars and they're reasonably efficient. A few of the models provide additional benefits. The Prius is, of course, highly efficient. The Forester is an AWD vehicle that is also efficient. The core qualification here, though, are reliability and family function.
Lexus (a Toyota brand) and Toyota are always near the top of any reliability ranking, such as this one by Consumer Reports. It's arguably the most affordable and reliable brand besides, perhaps, Audi. The other brands in the list, Subaru and Honda, are known for superior reliability as well. These brands can last well over a decade of low-to-medium mileage. 200,000 miles or more without major repairs is easily achievable if maintenance is done right.
There is one problem with the ranking. Vehicles that are popular among lessees lose their chance to place high because their lease terms are usually about 3 years. After that, they're often sold as pre-owned vehicles. By that time, of course, their functional lifetimes have been reduced by those three years. Also, many popular leases are sedans, which sometimes don't match the driver's lifestyle for more than 4 or 5 years. The owner may need more seats and decide to trade the sedan for an SUV, for example.
What are your thoughts? Could any of these vehicles be your day-in, day-out transportation for 19 years?
At buyingadvice.com, we offer free quotes and exclusive discounts when available. Just search any local dealer's inventory and get as many quotes as you'd like, for new or used cars. Click here.