With all of the emphasis our society puts on fuel economy these days, we thought many of you would want to know what the most efficient vehicles are. But not everybody's lifestyle can be supported by the most efficient car there is, the BMW i3. We're breaking it down by category. And in case you're opposed to hybrid's, we'll compare hybrids and gas-only models in each one. This information is based on
Consumer Reports'
fuel economy tests.
Small SUVs

photo by Thesupermat
Hybrid: Toyota Rav4 XLE Hybrid
The toyota Rav4 Hybrid XLE reached 26 MPG in the city and 36 MPG on the highway. That's not overwhelmingly impressive but it's better than the gas-only alternative in the category.
Gas: Honda HR-V
This is Honda's smaller, better-looking SUV. It gets several MPG better than the larger CR-V and is still practical for many drivers and small families. It's also around $5,000 less than the Toyota Rav4 and $4,000 less than the Ford Escape. It does around 20 MPG in the city and jumps up to 39 MPG on the highway.
Subcompact Cars
Electric: BMW i3
As stated earlier, this is the most efficient car on the market, according to Consumer Reports. That makes it the most efficient luxury car besides the Tesla 3 (for which we don't have information). Surprisingly, it also has a smaller range than the Tesla by 40 miles. The Tesla's range is 200 miles. The i3 was apparently more efficient without a range-extending gas engine, reaching 141 "MPGe" on the highway.
Gas: Mitsubishi Mirage ES
When you combine hybrid engines with small cars, you get great efficiency. That's because tiny cars are efficient even without hybrid engines. This tiny Mitsubishi got 28 MPG in the city and an impressive 47 MPG on the highway.
Compact Cars
Hybrid: Volkswagen Jetta SE
This car just barely beats the gas-only choice in its category. It does 29 MPG in the city and 45 MPG in the highway. The hybrid designation doesn't save you a huge amount of gas money, in this case, especially if you drive on the highway a lot. Perhaps it's because this car is fast, considering it's a small sedan. It has plenty of trunk room, too.
Gas: Mazda 3 i Touring
This compact sedan is a bit on the pricy side, with a $20,000 MSRP, but it is a high-value, high-quality vehicle with a 5-star NHTSA safety rating. It gets 23 MPG in the city and 45 MPG on the highway.
Midsized Cars
Hybrid: Ford Fusion SE Hybrid
Typically, as size increases, hybrid efficiency appears more and more lackluster. This car gets decent mileage in the city, though. 35 MPG in town and 41 MPG on the highway. It's about 600 lbs heavier than the Mazda 3 Touring and has 188 HP, which makes it a peppy hybrid.
Gas: Mazda 6 Sport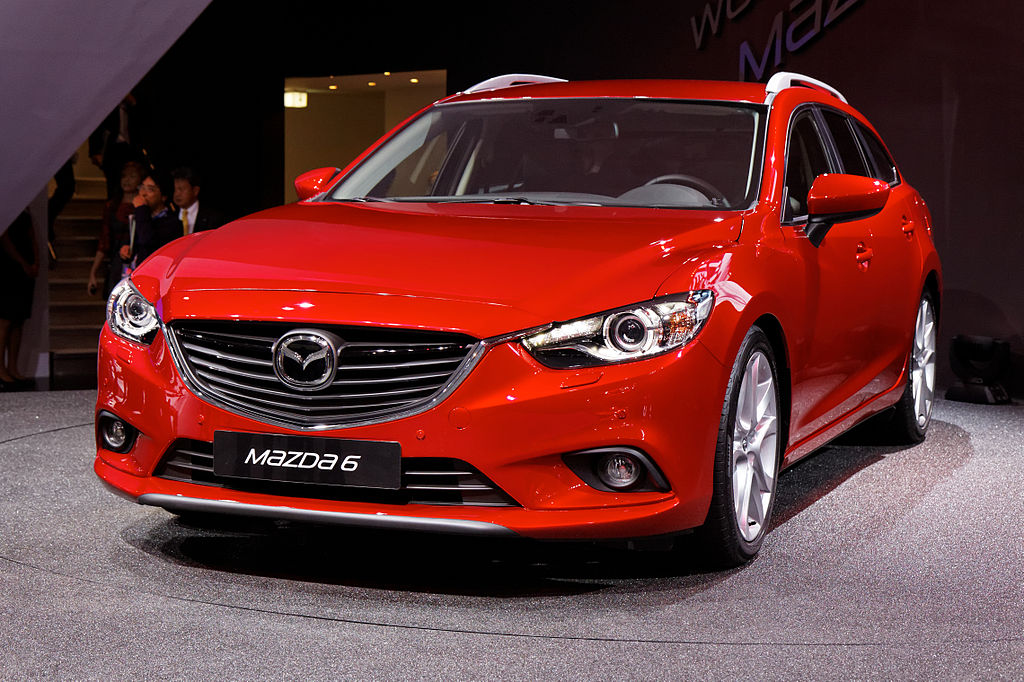 photo by Thesupermat
Think of this car as a non-hybrid Ford Fusion that isn't a Ford. It has similar power and weight without the hybrid technology and gets 22 MPG in the city and 44 MPG on the highway. It might be a good idea to opt for the hybrid option if you spend most of your time in town. It's hard to beat the new Mazda 6's exterior design, on the other hand. Hot!
Midsize/Large SUVs
Hybrid: Lexus RX 450h
Now this is a vehicle that really offers the best of both worlds. It's powerful, with a 3.5 liter, 308 horsepower engine and it's hybrid. Presumably, Consumer Reports found the non-AWD version to be more efficient. It rated at 24 MPG City / 33 HWY. The AWD version gets up to 30 in the city and 28 on the highway.
Diesel: Jeep Grand Cherokee Limited
This SUV is great for outdoor enthusiasts and owners of boats and RVs. It can tow 6,200 lbs and it achieved 17 MPG City / 32 Highway.
Minivans
Surprisingly, none of the top finishers in this category are hybrid. The winner is the Ford Transit Connect XLT, a 2.5 liter cargo van that comes in passenger-friendly trims. 15 MPG in the city and 27 on the highway.
Pickups
This category also lacks a hybrid competitor. the Ram 1500 Horn pickup, with a diesel engine, came in first at 15 city / 27 MPG highway. In second place is the gas-powered Toyota Tacoma SR5 V6. Both are among the lightest, least-towing pickups available but can still carry a good load.
Ready to get quotes on some of these rides? Please, let us help. We deliver quotes from any dealers, directly to your inbox. It's convenient and there's no obligation to use it. Click here to get started.