If you belong to a group of car buyers who need:
1. Minivan-levels of space for up to 7 passengers;
2. Stylish family vehicle that resembles a crossover rather than a large sedan;
3. A large SUV with retro-futuristic design with the added refinement of a crossover;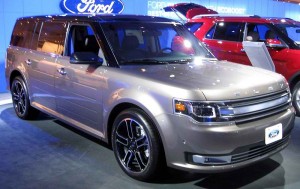 Then the 2013 Ford Flex is right for you. The Ford Flex is not only unique, it is refined, high-tech, and comfortable to drive. Expert reviews say that the Ford Flex is a bit more expensive compared to other rivals–especially minivans, but the Flex is more than just an ordinary people carrier. It fuses the brilliant characteristics of a minivan into a large crossover vehicle (which means the Flex has impressive levels of cargo room and passenger space while being more stylish and hip) with the ride qualities of a large and cosseting sedan.
Even the base model comes standard with an assortment of standard kit including automatic headlights, power driver seat, rear privacy glass, a 6-speaker audio system, and large 17-inch alloy wheels. Higher trim models receive larger 18-inch alloys, dual zone auto climate control, and satellite radio. All of these features make the Ford Flex one of the most entertaining and fun to drive family vehicles, without the usual stigma associated with driving a minivan.
Power
The Ford Flex comes standard with a 3.5-liter V6 with 285hp. Power is diverted to the front wheels via a 6-speed automatic transmission. All-wheel drive remains an option. This engine can return an EPA average of 18/25 MPG in city and highway driving.
If you want more power, the 3.5-liter V6 EcoBoost engine is the one to have. This engine produces 355hp with standard all-wheel drive, controlled via a 6-speed automatic with paddle-shift feature. This engine returns an EPA average of 16/21 MPG.
The Ford Flex has another ace up its sleeve: towing capacity. Properly equipped, both V6 engines can tow a maximum load of 4,500 pounds. Not bad for a stylish and cool crossover wagon.
Safety
The Ford Flex is included in the IIHS Top Safety Pick for 2012. It also comes standard with stability control, traction control, anti-lock brakes, front aide airbags and side curtain airbags. All of these ensures that each of the seven occupants are well-protected in the event of a crash.
Conclusion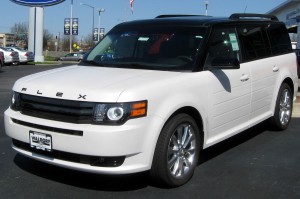 Let's get one thing straight: the twin-sliding doors of a minivan makes ingress and egress easier compared to the conventional doors of the Ford Flex, but this is better than what other large crossovers have to offer. The Flex is expensive from an economical point of view, but it does have more standard features and a more refined interior.
If you need a family vehicle with seven seats, you should definitely consider the new Ford Flex.