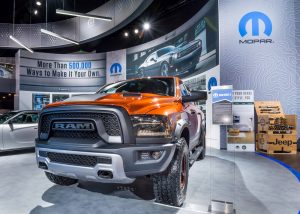 Ram's "Rebel" pickup doesn't sell nearly as well as the more stock Ram pickups on the market. It also doesn't seem to sell as well as Ford's performance pickup, the F-150 Raptor. Ram may have a solution to that competitive problem, however. It's called the Rebel TRX and its obviously meant to go head-to-head with the Raptor. Judging by the significant TRX PR Ram has concocted, there's a good chance the pickup will move out of the concept stage and become available to the masses. Just remember that it's still a concept right now. We don't know exactly what the mass-produced version will be like yet.
Specs
575 HP Supercharged 6.2L V8 8-speed Automatic 100 MPH top speed Deep, powerful sounds
In typical Dodge fashion, it's a powerhouse. We know it has off-road suspension but we'll have to wait and see how race-worthy it is if it reaches full production. It will have to compete with the Raptor, we think. It has a "Baja mode," which taunts the Raptor and its completion of the Baja 1000 off-road race. Not having the racing hardware to do so as well could create some unwanted negative PR. Therefore, expect a lot of heavy duty off-road hardware. The TRX has been tested in the desert, as we see can in this video!
Design
The TRX's design is an upgrade to the Ram 1500 Rebel's look (pictured above), to put it simply. The basic design remains but there are additions to the TRX, which include a heavy-duty-looking front skid plate, larger wheel wells, newly-designed headlights and tail lights, and overhead light bar, two-tone bead-locking wheels (apparently) and a large "TRX" logo behind the driver-side rear wheel well. The concept also includes a spare rack that sits in the bed. See photos here.
Interior
Ram's website says the TRX has "suede seats that cling to cloth," a six-point racing harness and a paddle shifter. We can assume the seats will be bucket seats of something inspired by them. Also on Ram's website, we see a couple of knobs that control the 4WD mode and the suspension mode. Nothing extraordinary yet. We also see a screen of about 6 or 7 inches and a number of switches that look like those of a Mini Cooper, which is a nice-looking concept. We're expecting changes to this look, though.
Takeaways
The key takeaway is in the form of a question. How well will the TRX compete with the Raptor? When you look at the question from Ram's point of view, there are advantages and disadvantages to creating a truck that really competes directly. It has the live up to the hype, in that case. Creating something that's priced lower and almost competes on the Baja course could turn out to be an immediate financial success but could be detrimental to the brand in the long run. It would also be difficult to keep costs down enough to price it below the Raptor's $48K level. Time will tell.
Need to get a money-saving deal on your next pickup or car? Shop the easy way. Get quotes from all of your local dealers and then choose where you take your business. Get started here.