We received news of Workhorse's W-15 range-extended pickup truck last year but didn't think much of it. We thought dropping gas prices would put the project on hold. We were sure the political climate would cancel the progression of the EV altogether but it didn't. Seems the market is more concerned with saving money than protecting the environment now, even though the two aims go hand in hand.
At any rate, Worsehorse has continued planning to release its vehicles. The company, which has been building hybrid vehicles for DHL and other couriers for some time, cut a sales and service deal with Ryder this month. The deal positions Workhorse as a cost-effective fleet vehicle provider with instant access to service across the country. Workhorse has a chance to essentially cement its place in the American auto industry by securing a federal postal delivery vehicle deal in addition, according to car and driver.
So what makes this range-extended electric pickup something fleet managers will want? It's cheaper to operate than trucks with comparable horsepower and towing capacity, for one thing. For another, it has more to offer, like all-wheel drive and an A/C power outlet on its flank. Workhorse wants help drivers and companies save about $8,500 per year per truck. That alone is a great value proposition. The W-15 is a range-extended EV, which means it can do several trips around town without any gas. When you need a little extra range, fill up the tank.
Workhorse W-15 Specs (Mid-Size Pickup)
MSRP (estimated): $50,000
Gas Engine: 647-cc BMW Two-cylinder
Range w/ Gas: 310 Miles
Battery-Only Range: 80 Miles
MPG: 32 city / 28 highway
Payload: 2,200 lbs
Towing Capacity: 5,000 lbs
Battery: 60-kWh Panasonic
Bed: 6 ft
IIHS Safety Ratings (anticipated): Top Safety Pick
0-60 mph: 6 seconds
Drivetrain: AWD
Horsepower: 460
Experts say the engine and batteries are reliable, having been put to the test in cars such as the Tesla Model S (battery) and the BMW i3 (engine). Take a look at these photos of the tough-looking electric pickup.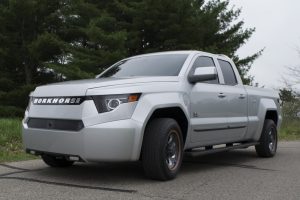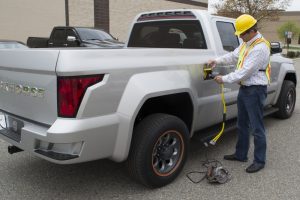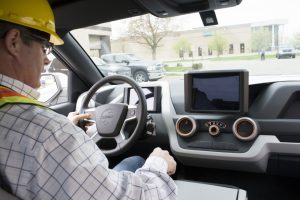 Before you sign any papers, get quotes from your local dealers and make an informed decision. You can get both advertised and unadvertised incentives via our free online quotes. Click here.