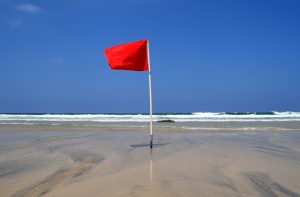 Car buying can be a stressful experience. Most of us want to make sure our money is well-spent, and that's why we question things. Last time I purchased a vehicle, the asking price was a few thousand dollars lower than prices I had found for similar vehicles in my area. I just didn't feel right about it. Something had to be up. In that case, the vehicle had been shipped from a region with a surplus of the particular model. Nothing was really up, but something could have been. Better safe than sorry, right? Let's prepare for your shopping experience. We'll help you identify some of the common car buying red flags. 
Lots of Previous Owners
Drivers usually keep their cars for 6 or 7 years. If the vehicle history report (Carfax, AutoCheck, etc.) shows several owners and the vehicle's only a few years old (or you see a bunch of title transfers in the last few years), something might not be right. There might be a reason nobody wants to keep the car very long. The safest bet, in this case, is to find another vehicle.
Insurance Loss, Salvage or Rebuilt
Seeing any of these indications on your Carfax report means the vehicle was totalled and then repaired. While that isn't necessarily a deal breaker, it could increase the likelihood of a breakdown or other trouble in the future. If you buy a vehicle that was rebuilt, find a good mechanic to inspect it. Here's a related tip: If you noticed slightly-mismatched (or clearly mismatched) paint or fabric, it may be because the vehicle has been refurbished.
Pushy Seller
If a seller makes any attempt to hurry the buying process along, you should hesitate. For example, if you want to test drive the vehicle on the interstate but the seller insists there's no need, he may be trying to hide something. Once the vehicle's title has been transferred to you, complaining about problems will probably be pointless. Make sure you take your time, test drive the vehicle and have it inspected before you buy it.
Fishy or Missing Title
A title is an official document that shows ownership of a vehicle. Don't buy a vehicle from someone who doesn't have a title with their own name and the correct VIN on it. The VIN, or vehicle identification number, can be found at the bottom of the windshield and/or in the driver's door jamb. You should find a sample title from your state or the state of the seller's residence and take a look at it. You need the real title of the vehicle, obviously, not a fake one. Know what to look for.
Really High or Really Low Price
For-sale-by-owner prices can be ridiculous. The exact same vehicle for sale from several owners might have an asking price range of many thousands of dollars. This is just because owners sometimes don't know the value of their vehicles, post a low price just to get inquiries, or knowingly ask for too much money. To avoid dealing with such inaccuracies, you can simply buy from a well-known, established dealer such as those in our network. You can compare quotes from all your local dealers by requesting prices online. It couldn't be much easier, and you'll save money because dealers make their most generous offers to online shoppers.
Ready to get your free, no-obligation auto quotes? Click here.