Wherever you look, you can find all sorts of crossover SUV's in different shapes, sizes, and forms. Consumer demand for small and midsize crossover SUV's are at its highest so far, and why not? Despite being not as capable off-road, crossover SUV's are more comfortable and easier to drive than large and heavy trucks.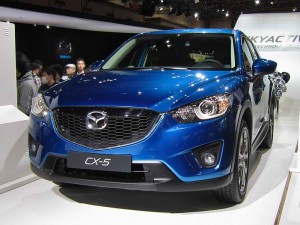 The 2013 Mazda CX-5 is different because it was specifically designed to deliver outstanding driving feel with improved fuel economy. The Mazda CX-5 is the first vehicle in the lineup to benefit from Mazda's proprietary SKYACTIV-G technology. SKYACTIV is not just about the high-compression and direct-injected engine that returns 26/33 city and highway miles per gallon, but it is also about the perfect harmony created by the transmission and the body styling. The Mazda CX-5 look scool and high-tech without overly offending the senses.
Engine
All trim models of the Mazda CX-5 will receive a 2.0-liter SKYACTIV-G 4-cylinder engine that produces 155hp. This engine can mated to a 6-speed manual or 6-speed automatic transmission with SKYACTIV technology built-in. Together with a stylish and sporty body that is lighter and more aerodynamic than previous Mazda SUV's, the CX-5 offers exhilarating performance with no sacrifices to fuel economy. With the CX-5, you can really have fun!
Interior
The Mazda CX-5 offers 64.8 cubic-feet of cargo space when the rear seats are folded down. While it is not as roomy or as spacious as a midsize SUV, the MAZDA CX-5 offers versatile seating configurations so you can easily carry long and heavy objects with a simple flick of a lever.
Five people can sit comfortably inside the MAZDA CX-5. Mazda engineers specifically tweaked the interior to provide more room without adding bulk to the slippery bodywork.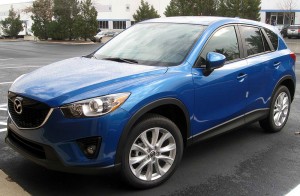 Safety
The Mazda CX-5 was included in the IIHS Top Safety Pick for 2012. Standard safety features include traction and stability control, front airbags and full length side curtain airbags, active head restraints and anti-lock brakes.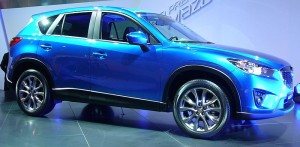 Performance
The Mazda CX-5 is exciting to drive. It is light on its feet, and it has a feeling of athleticism, agility, and refinement even when driven hard. The engine is punchy, responsive and quiet. The transmission shifts eagerly and smoothly without any jerky movements. It is not a quiet highway cruiser, but 2013 Mazda CX-5 shines the most on twisty and curved roads. The steering, brakes, suspension and chassis deliver the perfect balance of stability, comfort, and control.
If you want a sporty and agile compact SUV, take a long look at the Mazda CX-5.