The 2013 Chevrolet Malibu will shatter your perceptions of a midsize family sedan. This new model is slightly wider than the previous generation model and this further enhances the feeling of space, even if has a shorter wheelbase compared to the outgoing model.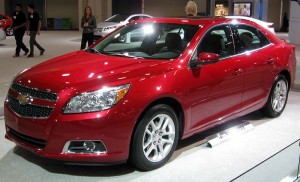 The 2013 Chevy Malibu is initially available as a mild hybrid model called the ECO trim. This version of the new Malibu has a slightly higher base price compared to the all-gasoline model that will be available in the summer of 2012. The Malibu ECO is powered by a 2.4-liter Ecotec 4-cylinder gasoline engine with direct-injection paired with a 15kW electric motor eAssist system that produces 182hp. Since the engine shuts down when not needed, the Malibu can achieve 25/37 MPG in city and highway driving.
Technology
The 2013 Chevy Malibu boasts of the latest aerodynamic and in-vehicle technology. It is equipped with front aero grille shutters that electronically opens to assist engine cooling, and closes for better aerodynamic efficiency. Together with the slippery shape of the bodywork that was inspired by the Chevrolet Camaro, the new Malibu can achieve 580 highway miles in just a single tank of fuel.
The new Malibu also has seamless technology features such as Bluetooth wireless technology, OnStar turn-by-turn navigation system, and a remote start system that allows you to start and warm the engine even before getting into the driver seat.
Interior
The new Chevrolet Malibu has a sophisticated and refined interior. In fact, it comes very close the interior of an expensive German luxury car. The dashboard is lined with soft-touch materials and high quality switch gear. The interior has a feeling of class and prestige–traits that were absent on the previous generation Malibu.
The ride is also quiet, supple, and controlled. Chevrolet did its homework when it comes to achieving a delicate balance between ride comfort and inspired handling. While the Malibu is not a sports car, it manages to remain confidence-inspiring despite the isolating nature of the suspension.
Safety
The new Chevy Malibu ECO is also a safe car. It comes with a total of 8 airbags including knee airbags for the front seat passengers for better all-around protection during a crash. OnStar emergency communications also comes standard. The new Malibu was even included in the 2012 IIHS Top Safety Pick, making it one of the safest choices for a family car.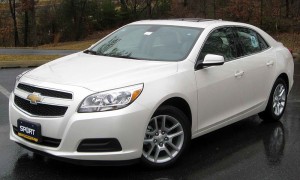 Conclusion
The eAssist system is instantaneous and seamless. Interior room is remarkably adequate. The engine is smooth, quiet, and powerful. The 2013 Chevrolet Malibu ECO deserves serious consideration of you are looking for a comfortable and economical family car.
Other people might want to wait for the all-gasoline models to arrive during the summer, but it is all a matter of personal preference. The Chevy Malibu in ECO trim with eAssist deserves serious consideration for those who want a bit of luxury and prestige in an economical midsize sedan.