There is no single stellar reason why the 2012 Volkswagen Passat was named as Motor Trend's Car of the Year 2012. The car blends all the brilliant attributes of what a daily driver should be: tasteful design, refined and quiet interior, and an affordable base price.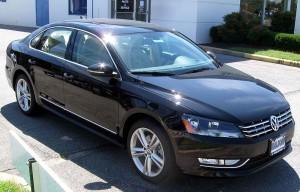 With prices starting at less than $20,000 for the base model Passat with the inline 5-cylinder engine, this modern interpretation of a big American sedan gives excellent value for money. A 280hp 3.6-liter V6 is also available for those who crave more power and torque, but if fuel economy is your top priority then you better check out the wonderful 2.0-liter 4-cylinder TDI turbodiesel engine that returns 30/40 MPG.
Volkswagen Passat versus the competition
The Hyundai Sonata looked fresh when it was first released in 2011, and the Kia Optima is not a bad looker either. Both Korean contenders are top picks simply because they have a low base price. The 2013 Hyundai Sonata starts at around $21,000 while the 2013 Kia Optima commands a paltry $19,500.
But there is something special about the Volkswagen Passat. Wherein the Hyundai Sonata and the Kia Optima were both designated to be global contenders in the midsize class, the new VW Passat was conceived specifically for the American market alone (and China for that matter).
The Volkswagen Passat is a German disguised as an American, and its all for the better. The new Passat speaks of dynamic restraint in terms of the sheet metal design. Unlike the Sonata and the Optima, the Passat looks more mature, refined, and athletic, all at the same time.
But the Passat has a sportier and well-balanced ride compared to the Sonata and the Optima. The VW Passat also behaves like a more expensive German sedan: it rides confidently over bumps, and it glides on the highway like a well-behaved sports sedan.
VW Passat Trim Levels
Base models with the 2.5-liter 5-cylinder engine gets full power accessories, automatic climate control, 16-inch wheels,Bluetooth, and an 8-speaker audio system. The SEL trim gets premium vinyl upholstery, 17-inch alloy wheels, and a touchscreen audio interface. The SEL trim gets an upgraded navigation system, a Fender audio system, and improved seats.
Interested in the 2012 Volkswagen Passat? Find updated prices and the best deals on the 2012 Volkswagen Passat by requesting a FREE price quote from BuyingAdvice.com.