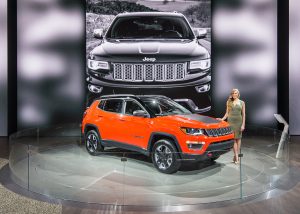 If you're looking for that perfectly customizable SUV, the new 2020 Jeep Compass might be the answer to all of your requirements. It received a facelift, looks hot (like a small Grand Cherokee) and arrives at dealerships in no more than a month or so. Mopar wants to be the obvious choice for accessories. Nearly 100 Jeep accessories for the Compass alone are now available at mopar.com. From function to aesthetics, these Compass accessories make it possible to customize your Jeep in so many ways.
Mopar categorizes its Jeep accessories into 7 categories. They are Audio/Video and Electronic, Carriers and Cargo Hauling, Exterior, Interior, Lifestyle and Off-Road, Lighting and Electrical, Under Car and Hood, and Vehicle Care. "Accessories" doesn't include parts, such as wheels and gas caps.
There are too many Compass accessories to describe individually but we'll mention some of the items you might be looking for. Since Mopar is owned and managed by Fiat Chrysler, just like Jeep, you can expect most of these accessories to be of reasonably high quality and function.
Interior Accessories
Molded mats and trays
Cargo nets
Leather seat covers
Sunshades
Organizational add-ons
Lifestyle and Off-Road Accessories
Safety Kits
Tents
Exterior Accessories
Splash guards
Door sill guards
Chrome accents
Air deflectors
Vehicle covers
Wheel locks
Wheels
Inflator kits
Rock rails
Custom body graphics
Side window air deflectors
Carriers and Cargo Hauling Accessories
Bicycle Carriers
Cargo baskets
Hitch balls
Hitch receivers
Luggage carriers
Roof boxes
Roof racks
Watersports equipment carriers
Audio/Video and Electronics Accessories
Electronic vehicle tracking systems
Remote start systems
Hands-free phone adapters
Mopar will upload the remainder of the products onto its website around the time the Compass shows up in your local dealership. Of course, you'll also be handed a catalog of all the Compass's accessories when you speak to a salesperson at the dealership.
The best way to start your auto shopping adventure is to get quotes from multiple dealers simultaneously. It's free and easy. Request your quotes here.
​