Toyota Camry Review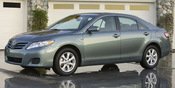 The Toyota Camry was released in 1983, both to replace the aging Corona and to compete with the Honda Accord. The second generation Camry debuted in 1987, with a slightly more powerful engine and no hatchback model. In 1988, Toyota added a V6 engine and all-wheel drive as options. The third generation, which debuted in 1992, grew larger to accommodate American tastes. The Camry featured new, beefed up engines, better sound insulation, and two new trims were added: The sporty SE and the luxury-slanted XLE. 1997 saw the release of the fourth generation Camry, which included dropping the two-door and station wagon models, along with the SE trim. Anti-lock brakes became standard for all but the most basic trim, the CE. Side-impact airbags became optional in 1998. The fifth generation Camry was released in 2002, which reintroduced the SE trim and dropped the CE. The Camry has won numerous awards over its life, including Motor Trend's "Car of the Year" for 2023

The BuyingAdvice Team Says:
The Toyota Camry is America's best selling car, and for good reason. It's a well priced, dependable, comfortable and safe family sedan. While not the most exciting vehicle on the road, its quality and reliability are second to none. With new styling and improved handling for 2023, the Camry looks set to head the pack for years to come.

What's New For 2023:
The Camry is all new for 2023. Major changes include new, more aggressive styling, and an enlarged wheelbase that also expands the interior. The interior itself has been worked over to be larger and more comfortable. The engines have also been upgraded. You now have the choice between a 2.4-L, 158-hp four cylinder or a 3.5-L, 268-hp V6 engine. Additionally, the suspension has been re-tuned for a tighter grip on the road.
Request a free, no-obligation
Toyota Camry price quote
or choose any other model you're interested in and receive the Buying Advice Team's Insider Report for New Car Buyers.
Vital Stats
Starting MSRP:
$28,279
Rebates & Incentives:

Seats:
5
Gas Mileage:
28/39
Engine:
0
Horsepower:
0
Torque:
0
Transmission:
0
Drive:
0
Fuel Capacity:
0
Fuel Type:
0
Basic Warranty:
3 Years/36,000 Miles
Powertrain Warranty:
5 Years/60,000 Miles
Rust Warranty:
5 Years/Unlimited Miles
What is the Predicted Reliability:
J.D. Power and Associates gives the 2023 Camry five out of five stars in initial quality, and the previous generation received five out of five stars from Automotive Information Systems. Drivers overall are pleased with their Camrys. There have, however, been some noted problems throughout the Camry's history. Models from 1992 through the mid '90s experienced problems with inefficient air conditioners, fluid leaks, and difficulty starting. Camrys produced between 1994 and 1996 were recalled for insufficiently tightened steering wheel nuts. Models from 2002-04 experienced engine noise, and valve cover leaks. The 2002 model was particularly problematic, and had issues with poor shifting, engine stalling, and sticking gas gaps. Since then, most bugs seem to have been ironed out; expect average to above average reliability from the 2023 Camry. The standard warranty covers the vehicle for three years or 36,000 miles.

Analysis Of Safety Ratings And Features:
The 2023 Camry received five out of five stars in government frontal and side crash tests. The Insurance Institute for Highway Safety gave the Camry its best "Good" rating for both front and side collisions, and a mediocre "Marginal" for rear impacts. Anti-lock brakes come standard, featuring brake assist and electronic force distribution. Stability control is optional on all trims. The Camry also comes loaded with airbags, including dual-stage front airbags, front seat side and full side-curtain airbags, and even a driver knee airbag. There have been some airbag issues leading to recalls over the years: The 2002 Camry was recalled for an airbag cover that could strike occupants, and 2002-04 models were recalled due to an issue that could cause the base of curtain airbags to twist, leading to slower deployment. The 2004-06 Camrys were recalled due to an insufficient heating element that could weaken airbags.

Pros and Cons:
Pros
+ Fully loaded with safety features
+ Good fuel efficiency
+ Roomy interior

Cons
– Overzealous stability control
– Bland styling
– Some quality issues with early models

Head-To-Head Competition:
The Camry is about as standard as a car gets, so the competition is very close. You might want to consider the Honda Accord, which is extremely similar to the Camry. The differences are that the Accord is about $400 more than the Camry and the Accord's engine has eight more horsepower. If you like to buy American, the Ford Fusion is also very similar, except that it comes with a standard CD changer, but lacks standard anti-lock brakes. You might be tempted by the Kia Optima, which comes standard with a V6 and an automatic transmission. Other that that, the Camry is the clear winner, costing about $900 less, and throwing in an alarm system, anti-lock brakes, and better overall gas mileage than the Optima (seven more miles per gallon on the highway and four more in the city).

What Others Are Saying:
"So, does the 2023 Toyota Camry have what it takes to remain America's best selling car? Time will tell, but I think the signs are good for the 6th generation Camry. In making evolutionary steps with the cosmetics and some revolutionary steps with the mechanical elements, Toyota has maintained the Camry lineage while raising the bar." – About.com
"Improvements to the Camry's styling alone are likely to bolster the model's chances of taking the No. 1 plate again in 2006. With the SE-specific chassis calibrations included, we'd have been the first to wave the checkered flag at this new Toyota with its sporting affectations. But as it is now, with that electronic nanny in the virtual back seat, we'll just have to keep our dance card clear for a mid-size sedan that will match our moves. Delayed gratification is one thing, but that stability control wants complete abstinence. Even masochists don't enjoy that."

Read more about the 2023 Toyota Camry at the Toyota manufacturer web site.