Honda Civic Sedan Review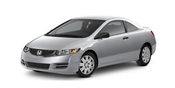 The Honda Civic first debuted as a compact hatchback in 1972. But it wasn't until the fifth generation in 1992 that the Civic gained its current rounded body, as well as airbags and anti-lock brakes. The sixth generation debuted in 1996, increasing size, engine power, and adding the HX trim that featured an electronically controlled gearbox. The Si was introduced in 1999, a performance-centered trim that soon became a favorite of modders. The seventh generation debuted in 2001, once again increasing its size and power. The current generation debuted in 2023, with a sleeker exterior, side curtain airbags, and standard anti-lock brakes. The Civic has won numerous awards, including Motor Trend's "Car of the Year" in 2023.

The BuyingAdvice Team Says:
The Honda Civic may just be the best car value on the road. The base coupe starts at under $15,000 and boasts more standard safety features than any other car in its class. Together with sharp handling, excellent gas mileage proven reliability, the Honda Civic is hard to match.

What's New For 2023:
The Si is now available as a four door sedan as well as a coupe. The wheel color of the Si coupe has been darkened. XM Radio now comes standard with navigation-equipped EX trims. The LX's sound system now features an auxiliary input jack.
Request a free, no-obligation
Honda Civic price quote
or choose any other model you're interested in and receive the Buying Advice Team's Insider Report for New Car Buyers.
Vital Stats
Starting MSRP:
$21,872
Rebates & Incentives:

Seats:
5
Gas Mileage:
25/36
Engine:
0
Horsepower:
0
Torque:
0
Transmission:
0
Drive:
0
Fuel Capacity:
0
Fuel Type:
0
Basic Warranty:
3 Years/36,000 Miles
Powertrain Warranty:
5 Years/60,000 Miles
Rust Warranty:
5 Years/Unlimited Miles
What is the Predicted Reliability:
J.D. Power and Associates gives the Civic three and a half out of five stars in initial quality. Drivers over the years have been pleased with their Civics, making it one of the best selling cars in America. However, there have been a number of minor and not so minor problems with the Civic. Sixth generation Civics had issues with harsh shifting, poor electrical grounding, and water leaks. The 2001 Civic was also a particularly problematic vehicle, having issues with engine noise, slipping transmissions, water leaks, and faulty power steering pumps. The 2006 Civic has had several technical service bulletins acknowledging a number of problems, such as power steering pump leaks, grinding, slipping transmissions, and problematic adjustable seats. Even worse, the 2006 Civic was recalled once for rear windows that could become loose, and again for loose pedals which could result in uncontrollable acceleration. Expect average reliability out of the 2023 Civic. The standard warranty is effective for three years or 36,000 miles.

Analysis Of Safety Ratings And Features:
For such a small car, the Civic boasts some impressive safety scores. Government crash tests give the Civic five out of five stars for frontal impacts and an average of four and a half stars for side impacts. The Insurance Institute for Highway Safety (IIHS) gives the Civic its best "Good" score for frontal, side, and rear impacts, which is almost unheard of. The Civic was also one of the IIHS' top safety picks of 2006, in part because the Civic doesn't skimp on safety features: It has anti-lock brakes, front and full-length side airbags, and head restraints. Electronic stability control comes standard on the Si trim. The 2006 Civic was recalled due to a faulty front passenger occupant detection system. The previous generation was recalled three times for seat belt issues, such as defective buckles and improperly installed washers.

Pros and Cons:
Pros
+ Very inexpensive
+ Good safety features
+ Great gas mileage

Cons
– Road noise
– Small trunk
– Poor shifting

Head-To-Head Competition:
The Civic has a lot of competitors on the market. The Ford Focus, for instance, comes standard with a CD player, air conditioning, and six more cubic feet of cargo capacity than the Civic. But the Civic wins on safety features, coming standard with side airbags and anti-lock brakes. Not to mention the fact that the Focus, featuring a manual transmission, has a starting price about the same as a Civic equipped with an automatic transmission. Younger drivers might want to look at the Scion tC, which features a larger engine (2.4-L vs. 1.8-L), a CD player, air conditioning, and a sunroof. However, the Civic is quite a bit less expensive, comes with side airbags, and gets about ten more miles to the gallon overall. If you want to get a bit more space, you can get a Toyota Corolla with a manual transmission for about the same price as a Civic with an automatic. The Corolla has a CD player and air conditioning, while the Civic includes anti-lock brakes and side airbags. Overall, for the price, no one can beat the Civic in safety features.

What Others Are Saying:
"The Civic has been a perennial bestseller in North America, but in the most recent generation, number seven, we didn't view it as the best in its class. That changes with generation eight. Honda has redesigned its family of front-drive compacts, and the cost-cutting that was far too readily apparent in the most recent Civics is nowhere to be seen in the new offerings." – Car and Driver
"After two full weeks of intense scrutiny, track testing, performance drives, and walk-around appraisals, Motor Trend editors found each of the 2006 Honda Civic models to be fun to drive and terrific value. With their bold, contemporary styling and innovative technology the new Civics are primed for success in one of the most competitive market segments in the country." – Motor Trend
"The Si, available only as a coupe (a two-door car, by definition) is a stunning performer with more finesse than expected. It's easygoing in traffic for a car so quick, so solid, so primal when the driver's throttle foot inches toward the floor." – USA Today
Read more about the 2023 Honda Civic Sedan at the Honda manufacturer web site.