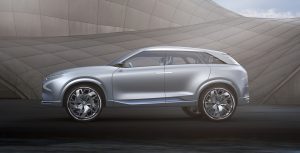 The new FE zero-emission fuel cell vehicle may be launched early 2018, says Hyundai. The Korean auto manufacturer has been planning to replace the Tucson fuel cell for years and this appears to the SUV to do it. Like all hydrogen-fueled vehicles, the FE runs on and emits water and does not produce any carbon exhaust.
The FE is built on the platform which future Hyundai fuel cell vehicles will be built, says Hyundai. It's lighter and more aerodynamic than the Tucson, giving the FE a 500-mile range. A rear air foil adds a little extra efficiency. The FE has a built in electric scooter charger and compartment in case you need an even more efficient means of travelling while your car is parked.
The Hyundai FE looks a little like the new Volkswagen Atlas. It's sturdy, symmetrical, stout and has a tapering roofline that is a characteristic of many luxury crossovers. The FE's aspects that stand out from the rest of the SUVs and crossovers on the market are its headlights and tail lights, which are divided into little wavy lines. The FE's design inspiration is water, which explains the wavy features. The concept vehicle's wheels are in shiny chrome and don't closely resemble any mass-produced vehicle's wheels from any recent time. They're visually striking.
Hyundai FE has an exemplary design on the inside. It resembles a Tesla 3's minimalistic interior but with better integration of infotainment systems. The dash flows from end to end without seeming disjointed. Keeping with the "water" design inspiration, the seats don't show any sharp angles and are accented with soft, bright lines around edges. There's a liberally sized center console in the front and in the back. Presumably the rear console folds into a seat. Clearly Hyundai wanted to make a statement with the design of this vehicle and they did just that. For more images, check out autoblog's coverage of the FE.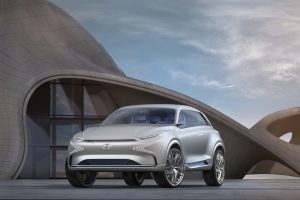 Alternative fuel will continue to be a key initiative for Hyundai, as it has been for some time. The corporation is putting their money behind the hope of a "hydrogen society," which was mentioned several times in a recent press release.
Ready for a great deal on your next vehicle? Get you free, no-obligation quotes from local dealers.
​