2008 Nissan Sentra Review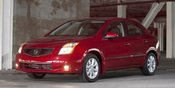 The Sentra is an entry-level compact car that debuted in 1985. It was last redesigned in 2007, with a whole new platform that allows for a more spacious interior. It now looks similar to the Maxima, and has more horsepower than ever.

The BuyingAdvice Team Says:
The Nissan Sentra presents a lot of value for a compact price. While it's technically a compact, it offers as much room as most midsize sedans. Additionally, it has an upscale feel that others in this class lack. Overall, the Sentra delivers good bang for the buck.

What's New For 2008:
Automatic windows with driver auto-up/down now come standard. Manual transmissions are no longer available on the 2.0. The 2.0 S now features a security system, anti-lock brakes and cruise control.
Request a free, no-obligation,
Nissan Sentra price quote
or choose any other model you're interested in and receive the Buying Advice Team's Insider Report for New Car Buyers.
What is the Predicted Reliability:
J.D. Power data is not available. Problems with the 1995-1999 Sentra included weak air conditioning, brake noise, inaccurate fuel gauges, hard starting and horn issues. It was recalled five times. Problems with the last generation Sentra include problematic air conditioners, crackling audio, steering noise and water leaks. It was recalled seven times for issues such as wheel separation, fracturing bolts, possible fires, possible fuel spillage and excessive oil consumption. Expect below average reliability. The basic warranty lasts for three years or 36,000 miles.

Analysis Of Safety Ratings And Features:
The Sentra earned 5 stars in government frontal crash tests and 4.5 stars in side tests. IIHS scores are not available. Full side-curtain airbags come standard. Anti-lock brakes are standard except on the base.

Pros and Cons:
Pros
+ Roomy
+ Upscale for a compact
+ Standard automatic transmission

Cons
– Poor reliability history
– ABS not standard on the base model
– Mediocre ride

Head-To-Head Competition:
The Ford Focus SE is very similar, except it lacks a standard automatic transmission. The Honda Civic DX includes ABS, but lacks standard AC and a CD player. The Hyundai Elantra includes ABS and traction control, but lacks an automatic.

What Others Are Saying:
"The just-introduced sixth-generation Nissan Sentra has grown up. It's larger, especially inside, very well-equipped, yet still reasonably priced and offers a more upscale experience than expected from a compact sedan." – The Auto Channel
"You may not feel compelled to live in it for a week as seen on TV, but the 2007 Sentra 2.0 SL is a solid value and makes good use of technology for efficiency, utility, and entertainment." – C|Net
"I know many readers will scoff at the idea of buying a 2007 Nissan Sentra in place of a mid-size car. To the scoffers, I say: Test drive a Nissan Sentra and see for yourself. The Sentra offers all the room most of us need and all the toys most of us want, all with lower purchase and running costs." – About.com
Read more about the 2008 Nissan Sentra at the Nissan manufacturer web site.